QA/QC + LIMS + QMS +
Mix Design Optimization
Our comprehensive solution covers all aspects of a fully paperless LIMS and QMS,
including Quality Control & Quality Assurance, and Mix Design Optimization.

Also includes real-time monitoring of in-transit slump, durability, maturity,
and any other key characteristic you may need.
Paperless technical management system
Concrete Quality is a web-based system (including phone app) that has been designed and developed by a team with years of hands-on experience in concrete production and testing.
It's both a full-fledged, paperless technical management system with a focus on production, quality and service, while being a LIMS (laboratory integrated management system) tailored for concrete manufacturers, without the overhead of systems designed for third-party testing laboratories.
A system that works for you,
not the other way around
Our philosophy is that "everything the computer can do, it must",
that's why we're experts in automating tasks you've never imagined.
Our software is 100% home made, so we can do ANYTHING;
whatever you may need, for us it's just lines of code and pixels on a screen.
We never say no to your requests and never shy away from a challenge!
Full-fledged Database
Full database for raw materials and concrete products, with samples, tests, and attachments (pictures, TDS, etc.). Perfect record keeping and traceability for every single batch you produce.
Total Connectivity
We tackle the complexity of connecting to any of your existing systems (batching, ERP, testing equipment, monitoring, etc.) to become a central hub of information and decision making. Put quality at the center of your business and see the impact on your profits.
Mobile ready
Easy access with clean and simple interfaces for mobile phones and tablets, to enter data, scan codes, take pictures, etc.
Mix Designs Management
Concrete Quality features advanced statistics and mix optimization tools. We can also adjust mixes in bulk and push the updates to multiple plants in a single action.
Ready for any country
Most worldwide standards readily available (EN, ASTM, BS), and fully customizable to comply with any requirement of your local standards. Built-in unit conversion and localized translations to fully adapt to your market.
Sampling & Testing Scheduling
Scheduler for sampling and testing (i.e. crushing schedule, sampling frequency by mix, grade, plant and/or job, etc.). QR or barcode labelling of samples, for concrete test specimens, core drills, raw materials samples, etc.
Automatic processing of PDF reports
We can receive third-party test reports and certificates by email, they are read automatically, added to the database, evaluated for compliance, the relevant personnel informed immediately, and the document saved for full traceability.
Submittal packages generation
Includes a submittal packages generation module, they can be produced with a few clicks, easily managed by project, client, etc., and automatically updated on a predefined schedule. Fully customizable with your logo and company information.
Voice operated app
Specially designed for field and laboratory testing, you can enter information using your voice instead of typing.
Database for raw materials and concrete samples, with all required tests options and customizable definition of target values for any characteristic.
All international standards: American (ASTM), European (EN, BS), Australian (AS), 
Mix designs management, with the possibility to update your mixes at the plants in bulk, in one click.
Mix proportions calculation and optimization, with different tools and methods like ACI 318, Fuller, Bolomey, and many more.
Scheduler for sampling and testing (i.e. crushing schedule, sampling frequency by mix, grade, plant and/or job, etc.).
QR or barcode labelling of samples, for concrete test specimens, core drills, raw materials samples, etc.
Mobile access with Smartphone or Tablet, simple interface with code scanning, taking pictures and videos, etc.
Fully paperless Quality Management System (QMS) with non-conformities management, checklists, calibrations, procedures, etc.
Customizable reports, based on your own report templates. We take care of converting everything.
Automatic processing of third-party reports in PDF, Excel, and any other format.
Automatic analysis of test results and configurable alerts in case of failure.
Submittal packages generation module, they can be produced with a few clicks.
Numerous statistical and analytics tools, including CUSUM analysis for different valuables and mix families.
Weather information with forecast and history anywhere in the world.
R&D tools for comparing and benchmarking materials, mix designs, etc.
Equipment calibrations calendar, including attachment of calibration certificates by third parties and calendar alerts.
Attached files such as TDS, MSDS, pictures, etc., to materials, samples, and tests for complete traceability.
Configurable alerts of any kind, such as test results out of specs, non-compliance for statistical evaluation, etc.
Scheduled automatic reporting, for materials and concrete testing, statistics and analytics, etc.
Customer's app with deliveries, QC certificates, statistics, and more.
Metric and imperial unit systems with automatic conversion.
Access with any smartphone, tablet, or PC, for any operating system.
Unlimited number of users, with fine-grained access management to information in the system and distribution lists.
Software updates, personalized configuration and support, all included.All
Connectivity
to third-party systems
A key feature of digital transformation is to connect multiple hardware and software packages into a specialized Business Intelligence system.
Concrete Quality has been developed with connectivity in mind, becoming a central hub of quality and production-related information, allowing for management of the whole operation with high visibility of all the steps of the process.
We can connect to any other system such as:
ERP, accounting, and other administrative systems, such as SAP, Zoho, etc.
Batching plant systems (ready-mix and precast) such as Command Alkon, Marcotte, Dorner, Frumecar, Onyma, etc.
Laboratory testing equipment (crushing machine, scales, etc.) such as ForneyVault, Controls, etc.
GPS location systems, including drum rotation, flow meters, etc.
Any sensors system, for in-transit and on-site monitoring
Logistics/dispatch systems (ready-mix)
Production planning and scheduling systems (precast)
LCA & EPD databases
Documentation management systems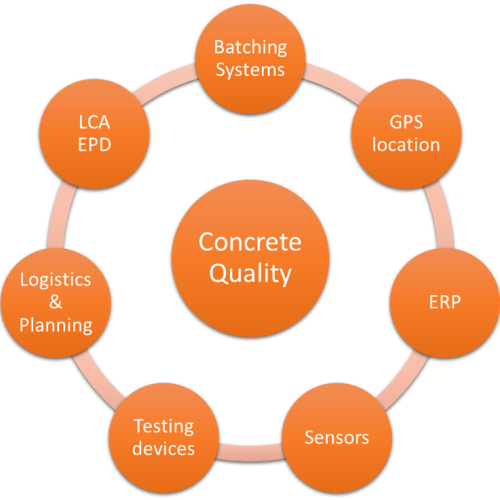 We're building the future of the industry
with the right combination of:
Get in touch with us to start a conversation where we will get to know you. We always listen to you, as you know better than anybody your situation and your needs.
We'll perform an initial assessment of your tools and procedures, and plan for an easy transition into new technology for you and your team.
After a while you'll find yourself adapting your processes to make the most out of these new tools, and we'll guide you with best practices and accompany you all the way.